President's Message
So often, I'm reminded of the incredible power of our community in the fight against hunger. I heard it in the eager voices of 80 children labeling carrots in our warehouse at Operation Orange this September. I saw it in the smiling faces of enthusiastic volunteers at our neighborhood park parties this summer, dancing with the DJ and distributing healthy groceries to families. Every day, our community makes an impact on the lives of our hungry neighbors.

As I look ahead into FY18, it's clear that we continue to face a high level of need. We are serving nearly 120,000 people across 18 counties – that's one in seven. The poverty level right here in Champaign County is over 20%, 4th highest in the state of Illinois. And, 1 in 5 children in our area don't know from where their next meal will come. That's unacceptable. However, what's also clear is that our community's support is incredibly mighty. In this newsletter, you'll read of our supporters – retailers, corporations, volunteers and donors who all are finding a unique way to join in the fight against hunger. I'm humbled by the fact that despite the challenges we face, that support – and it's impact – endures.

A sincere thank you for your ongoing commitment to our mission of alleviating hunger.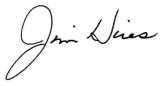 Jim Hires
President & CEO, Eastern Illinois Foodbank