Run Miles for Meals
Run (or walk) MILES for MEALS to help alleviate local childhood hunger. Donations raised for Team EIF through the Christie Clinic Illinois Marathon charity running program will be designated to our School Pantry Program.  Walkers and runners will receive a discount code for their Illinois Marathon registration.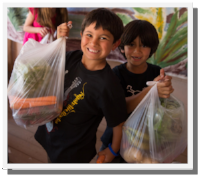 The School Pantry Program is aimed at alleviating childhood hunger through the provision of food to children and their families at school. School pantries are located on the grounds of a school, and are intended to provide a more readily  accessible source of food assistance to low-income students and their families. Last fiscal year, we fed nearly 8,000 students and their families through our School Pantry Program. 
Contact Kristen C. at 217-328-3663 or kcostello(at)eifoodbank.org for info on how to register.